Batting Cages
Hear the crack of your bat hitting a baseball with ease as your feet are planted on a soft turf surface. Whether you are the next slugger or you're cheering on your child in their recreation league, your custom batting cage is just a phone call away. Batting cages can be created for baseball, softball, or T-ball. Choose from an indoor or outdoor batting cage.
Indoor Batting Cages
There are multiple types of batting cages to choose from for your Baltimore sports court. Game Court Services can custom build your indoor batting cage. Below are just a few ideas to get started.
Fixed shell cages: provides protection to your home or building with steel cables and various sizes of netting to choose from.
Retractable ceiling batting cages: these types of cages can retract into the ceiling and are perfect for those who want a multi-sport facility. Bring down the batting cage and netting when you're ready to use it, and power it back up to the ceiling when finished.
Phantom tension batting cage: anchors are attached to the building walls for a quick set up and breakdown. This type of batting cage is recommended for locations with limited space.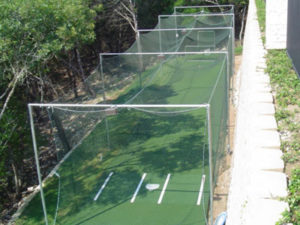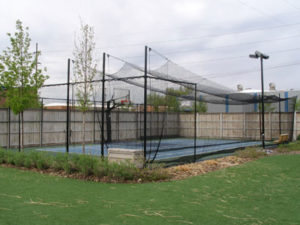 Outdoor Batting Cages
Batting cages on grass fields can be worn down by runners. Scattered tufts of dirt and grass can cause pose safety hazards. Instead of twisting an ankle, call Game Court Services to provide a safe, outdoor batting cage in the Baltimore area. Artificial turf may be a good solution to prevent injuries. Think also about installing a winch system so netting can be raised or taken down as needed.
An outdoor batting cage needs a team logo. Game Court Services can custom paint and install custom home plates, backstop padding, and more.
Whether you have a tension or modular batting cage solution, it's good to keep other elements in mind when designing your ideal cage. Think about lighting, whether or not you'd like a pitching mound, how large you want the batting area, and if you want synthetic grass. Ask about our indoor and outdoor batting cage accessories.
| Game Court Services is a great company to go through with very friendly and helpful staff. They always go out of their way to help with anything they can. | – Garrett D., Catonsville
If you need maintenance on your Catonsville or Baltimore area batting cage, Game Court Services can offer a comprehensive service. Already have a cage but need a batting cage replacement net? Contact us for a new one.
Whether you need an indoor batting cage or a batting cage for your outdoor Catonsville space we have multiple solution to choose from.
Sport Court is known for being the world's largest court builder and Game Court Services will uphold the same local, personalized service. We have been in business since 1974 and aim to be a leader in sport court installation and servicing.